"SHONAN VILLAGE Hokusai DX CONFERENCE 2023"
"SHONAN VILLAGE Hokusai DX CONFERENCE 2023"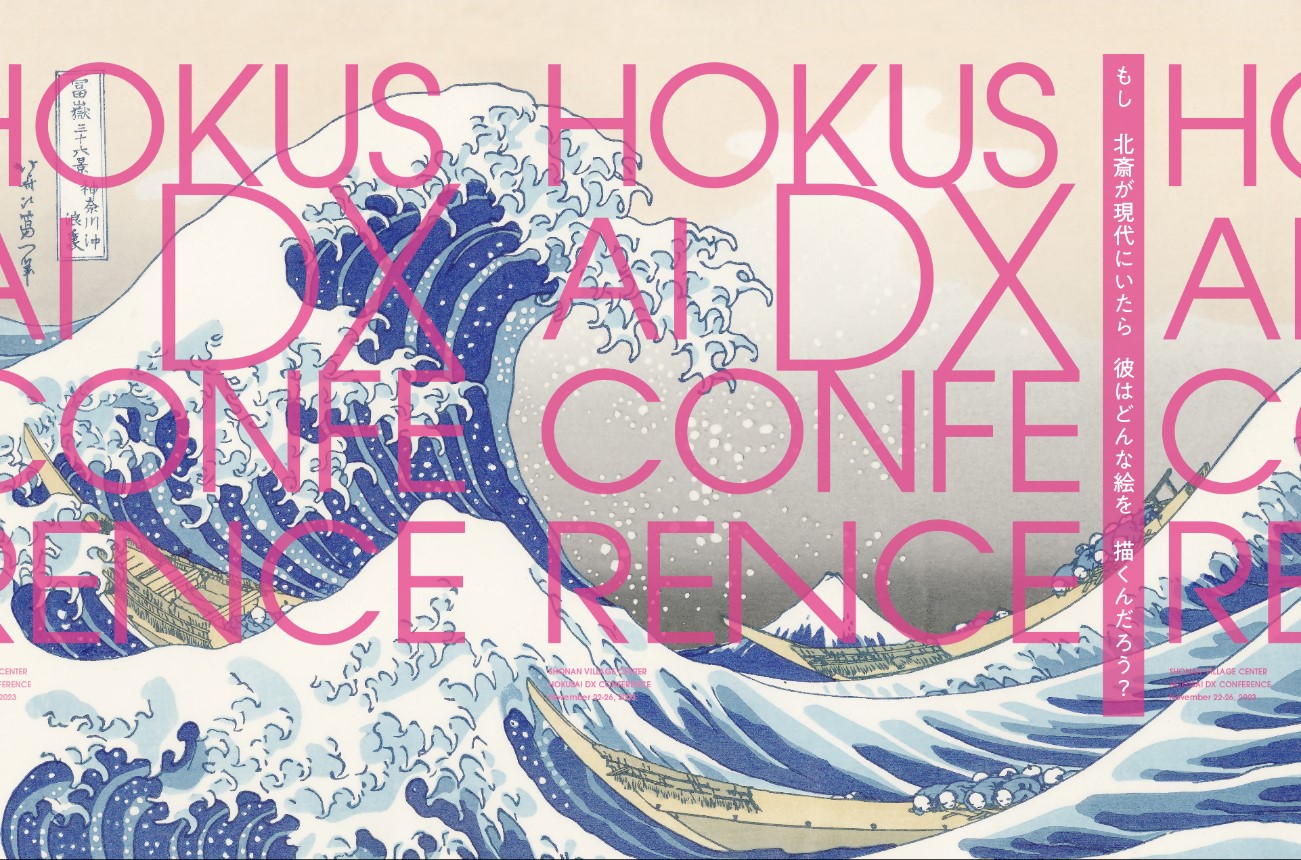 ~If Hokusai were alive today, what kind of paintings would he draw? ~

A conference called "Hokusai DX CONFERENCE" will be held to bring ideas together, with the aim of creating a "kinder society" for each and every person through the use of digital technology in Kanagawa Prefecture.
In order to aim for a society where everyone can participate and understand digital technology based on Katsushika Hokusai's works, we avoid technical terms as much as possible and provide easy-to-understand lectures, exhibits, and workshops.
This is a place where people from various backgrounds can learn together and deepen their common understanding of the digital age.
Event period: November 22nd (Wednesday) to November 26th (Sunday) 2023
Venue: SHONAN VILLAGE CENTER
【free entrance】
[Permanent Exhibition] November 22nd (Wednesday) – 26th (Sunday) 10:00-17:00, 2023
"AI x Hokusai" is a landscape painting drawn by an AI that has learned Hokusai's paintings, and "AI x Hokusai" is a landscape painting that uses 2 billion pixel ultra-high-definition digital recording and three-dimensional texture image processing technology to reproduce the actual item with a quality that is indistinguishable from the real thing. "Master Replica", "Tactile Paintings" that both visually impaired and sighted people can touch and enjoy, "Thirty-Six Views of Mt. The lineup is worth seeing, including introductions to tree planting and satoyama development.
[Workshops, etc.] November 23rd (Thursday/Holiday), 25th (Saturday), 26th (Sunday) 10:00-17:00
Events that the whole family can enjoy, including participatory ikebana performances, ikebana workshops, printmaking workshops, Hokusai Collection paper bag making workshops, community development workshops using generative AI, VR experiences, "Coloring book" that you can get toilet paper, helmet making workshops, and Gacha Gacha. There are also many.
*Some fees apply. Please check the website for times etc.
[Lecture] November 25th (Sat) 10:00-17:30, 26th (Sun) 10:00-17:00
We will invite experts in the digital and Hokusai fields to hold seminars that will contribute to the creation of local vibrancy. The Hokusai seminar, with its super-luxurious instructors, is worth seeing!
Keynote speech: Mr. Joichi Ito
Hokusai Seminar: 23 people in total, including Mr. Fuji Hisashi, Mr. Mitsuru Urakami, Obuse Town Mayor Masaki Sakurai, and Iwao Kubota, CEO of Ars Techne Co., Ltd.
*Advance application required Hybrid event
EVENT

"SHONAN VILLAGE Hokusai DX CONFERENCE 2023"
PERIOD

November 22nd (Wednesday) - 26th (Sunday), 2023

ADDRESS

SHONAN VILLAGE CENTER
1560-39 Kamiyamaguchi, Hayama-machi, Miura-gun, Kanagawa Prefecture

HP
https://www.hokusai-dx.com/