Shonan Teien Cultural Festival 2022
Shonan Teien Cultural Festival 2022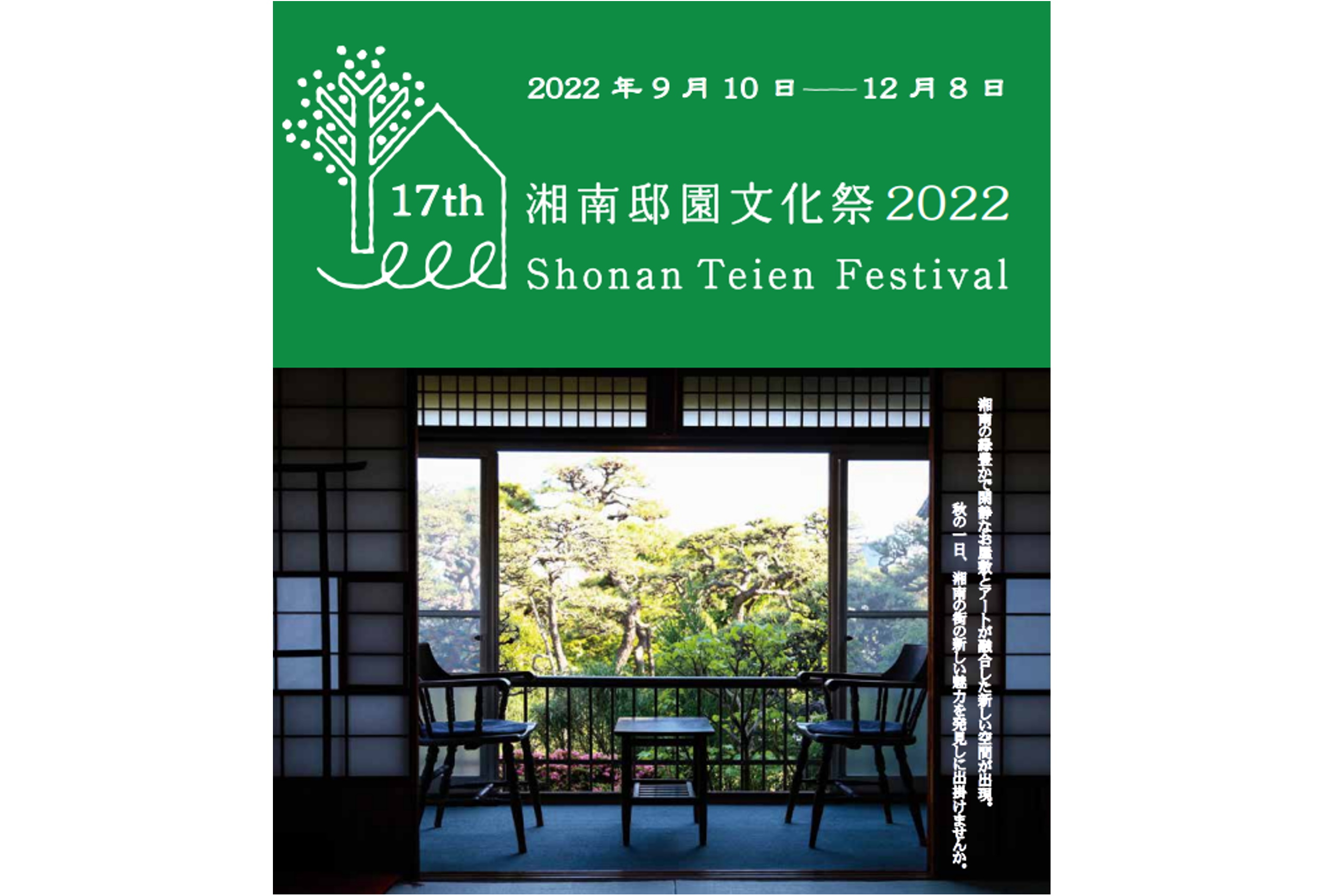 Since the Meiji period, the Sagami Bay coastal area has been home to villas and resort areas, and has developed as an area where political, business and cultural figures stay and interact, transmitting and accumulating a variety of cultures. While Shonan culture such as art, literature, music, and sports is still alive, in recent years, the Teiens, gardens and historical buildings that nurtured these cultures have been lost one after another. For this reason, community development organizations such as NPOs have actively started activities aimed at the conservation and utilization of mansions and the creation of new attractions.
The Shonan Teien Cultural Festival is a 'Shonan Teien Culture' that incorporates efforts by NPOs in various regions to conserve and utilize Teien, etc., and hold various cultural events that make use of Teien, etc. throughout the Shonan region at the same time. By holding this event, we will communicate the existence and value of the mansion, etc., get local residents and citizens to recognize it again, increase the momentum for the conservation of the mansion, etc., and furthermore, the business operator responsible for the utilization of the mansion It is a cultural festival aimed at wide-area cooperation with artists and others.
The 17th Shonan Teien Cultural Festival will be held in 12 cities and towns such as Odawara, Yugawara, Ninomiya, Oiso, Hiratsuka, Chigasaki, Fujisawa, Kamakura, Zushi, Hayama, and Yokosuka. , 45 events will be held.
Various events will be held by 26 groups such as NPOs in each region, set in a Teien ( Garden, historical building, etc.) that remains in Shonan. For details on each event, please see the Shonan Teien Cultural Festival 2022 guidebook on the following page or the article on each venue.
Period: September 10th to December 8th, 2022

See the page below for details.
http:// shonan-teien-festival.org/Overview of Shonan Mansion Cultural Festival 2022
EVENT

Shonan Teien Cultural Festival 2022