gorobikiami experience (Hiratsuka fishing port)
gorobikiami experience (Hiratsuka fishing port)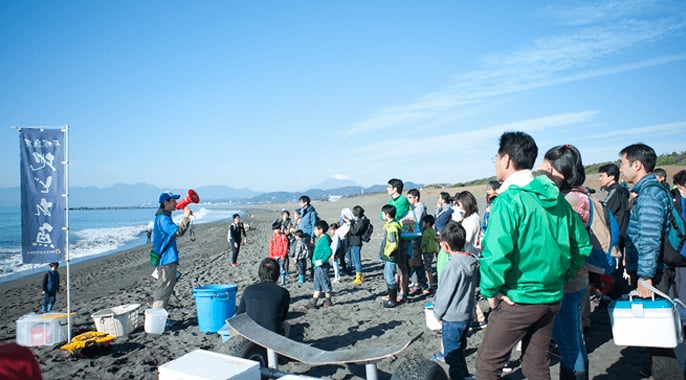 A netache net experience that is occasionally held at Hiratsuka fishing port.
The netting net is a word unfamiliar, but it is a miniaturized local net.
In the area of Hiratsuka, the trap net continued from the Edo period, but it seems that the curtain was once closed in Heisei 18.
However, everyone of Hiratsuka citizens and fishermen interested in hoping to resurrect, stood up and restarted again in the form of a netting network.
Everyone from top to bottom with a powerful net will pull up the net. Adults and children are united, pulling the net hard while applying a cheer, I can feel a sense of unity.
Let's experience the "netting net" that learns by touching nature!
Hiratsuka

gorobikiami experience (Hiratsuka fishing port)
ADDRESS
Kanagawa Prefecture Hiratsuka-shi Takahataidai 33-1
TEL
0463-23-4781
BUSINESS HOURS

From April to September
Beach center opening hours 9: 00 ~ 18: 00 (April - September)
※ closed from October to March

FEE

Some facilities are charged

ACCESS

· For those coming by train
From the south entrance of Hiratsuka Station, go straight to the Hiratsuka Nagisa Promenade. About 20 minutes.
· For those coming by car
New Shonan Bypass About 10 minutes from Chigasaki Coast IC
Tomei Expressway Atsugi IC via National Route 129, approximately 30 minutes
· For those coming by bus
Kanagawa Chuo Kotsu Bus Hiratsuka Station South Exit 21 Line Arrival: Get off at Hiratsuka Station South Exit Circulation 'Shonan Coast Park' in front 4 minutes on foot

PARKING LOT
Shonan Coast park parking lot 91 units, beach carnival
HP
http://www.jf-hiratsuka.org/